How To Shop
Click on the Shop tab. Start your shopping by searching for a website or a product.

Other shopping resources eg shopping suggestions, sales & discount can also be found there.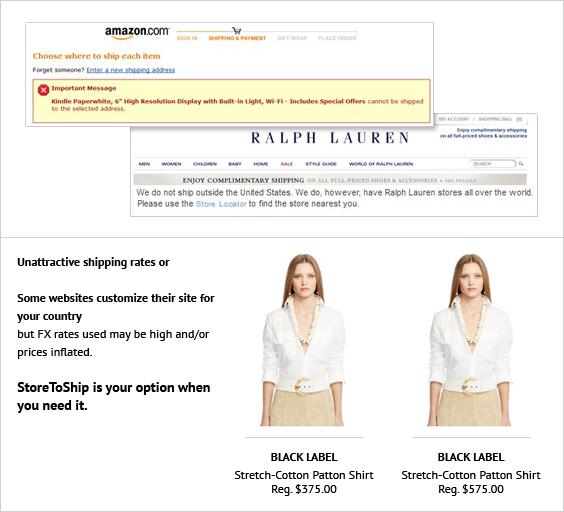 Using your U.S. Address
When shipping to your country is not applicable on the website
Whether it is ralphlauren.com, which only ships to a U.S. address, or amazon.com, which does not allow bulk purchases to international addresses, you will be provided with a U.S address which you can ship your purchases to.
Looking to reduce your
shipping costs?
Some websites that offer international shipping usually come with high shipping costs. Prices may even be increased when opted to ship internationally.

Therefore, you can now use your U.S. address to your advantage and reduce these additional costs.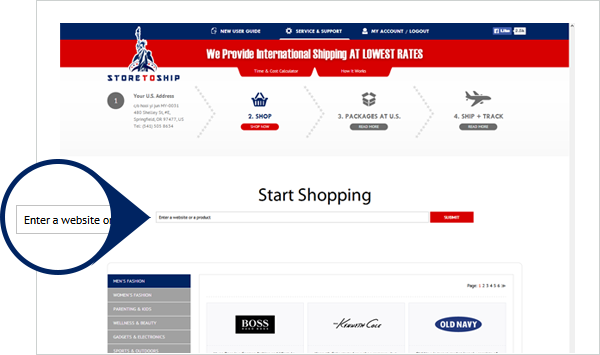 Use the BuyForYou (BFY) service
When using U.S. credit cards is the only option
When shopping at websites that requires credit cards with U.S. billing addresses, you may utilise the BFY service.

Using the BFY service, we can purchase your order on your behalf and ship to the corresponding U.S. address.
Shopping tip - Shop to optimize your shipping
The cost of shipping is lower when shipping in bulk as compared to shipping them separately.

When buying from more than one store, combining the shipment will reduce the shipping charges significantly. However, this is not applicable when the shipment is over the tax free limit.